Wheels & Stuff

parts for your
2010, Sequoia 8 Cylinder 4.6L



What's New List
Sparks Toyota Online
Performance Parts
p/n PTR38-34080
TRD 22" 5-Spoke Forged Aluminum Wheel CURRENTLY ON HOLD

---

MSRP: $799.00

Your Sale Price:
$NA

Sparks parts' prices are already discounted and no other coupons or discounts are valid on toyotaparts.sparkstoyota.com's internet parts and accessories.

for Larger Image

Our reasonable shipping charges
are calculated in your basket prior to check out.
Need International Shipping? Click Here for options
Description:
TRD 22"x 9" x 50 mm Polished 5-Spoke Forged Alloy Wheel with Anthracite(color) paint fill in pocket and hub area. TRD Forged Wheels have a high strength to weight ratio which keeps the corner weight down. CNC machined surface for exact tolerance and mirror-like polished finish with clear powder-coat to maintain the high polished look. These wheels also feature a Forged Center Cap sporting the TRD Logo. Each wheel kit includes cap. Recommended Tire Size:285/45/22
Attention !! This wheel uses OE 20° TPMS valve stems. 20° TPMS valve stems are already included on Tundras equipped with the 18" standard steel wheel and Factory 18" and 20" Alloy wheels. If you install these on Tundras with Styled Steel Wheels, the 40° sensors need to be replaced with the appropriate 20° TPMS Sensors. Order p/n PTR38-34070-Kit.
NOTE: This wheel uses 14 mm TRD chrome spline-drive conical-seat lugnuts P/N PTR27-60080 (required and sold separately)

Required Associated Parts:
PTR38-34070-Kit 20° TPMS Sensor Kit
Includes 4 - OE 20° Sensors p/n 42607-0C070 and 4 - OE Fitting Kits p/n 04423-0C170.
Required if you are replacing Styled Steel Wheels.
Styled Steel Wheels have 40° sensors and need to be replaced with these 20° TPMS Sensors if changing to the 22" Forged 5-Spoke Alloy Wheel p/n PTR38-34080.

PTR27-60110 TRD Wheel Installation Kit 14mm
TRD Installation Kit for use with 14mm conical seat applications. This kit comes with 16 Spline Drive Lug Nuts, 1 Spline Drive Tool, 4 TRD Wheel Locks with TRD logo laser-etched onto top of each lock, and 1 TRD Wheel Lock Tool.
   This kit is designed for a 5 lug wheel set. TRD Chrome, Spline-Drive, CONICAL-SEAT lugnut SET with captured conical swivel washers. It is designed for the 14mm x 1.5 OE thread pitch.

PTR27-34070 TRD 14mm Spline-Drive Conical-Seat Lug Nuts, 5-pc set
Individual set of PTR27-60080
This is a new larger version of the traditional TRD Chrome, Spline-Drive, CONICAL-SEAT lug nut with a captured conical swivel washer. It is designed for the LARGER 14mm x 1.5 OE thread pitch found only on select vehicles, such as Land Cruiser, Sequoia & Tundra. One set required per wheel.,
NOTE:This kit contains five chrome 14 mm spline-drive lugnuts and 1 spline-drive key tool (enough for only one wheel.) It is designed for a 5 lug wheel such as the TRD 22 x 9 forged aluminum 2007+ Tundra Wheel, P/N PTR38-34070 and/or PTR38-34080. For a vehicle set of 4 (5 lug) wheels you will need to order four of these lugnut sets. These are not for use with wheels designed for flat seat lug nuts.


Additional Information:
Prices are subject to change without notice.
Parts delivery contingent upon availability.
Orders will be confirmed within 48 hours.
Installation:
5-Spoke Wheel Balancing Instructions Installation Instructions, PDF format.
Need the Reader?

Note:
Self-installed parts (any part not installed by a shop) that needs to be warrantied will first need to be inspected/tested by a shop to determine if the issue is related to installation. After this has been done we can proceed with the warranty as normal.
Warranty:
TRD Sport Parts lnstalled by Dealer
TRD Sport Parts are warranted for 12 months or 12,000 miles from the date of installation or for the balance of the new car warranty in force on the date of installation, whichever is greater, when TRD Sport Parts are installed by an authorized Toyota or Scion Dealer.
TRD Sport Parts Not Installed by a Dealer
TRD Sport Parts installed by anyone other than an authorized Toyota or Scion dealer are warranted for 12 months or 12,000 miles from the date of purchase only and the warranty coverage is limited to the replacement value of the TRD Sport Part.
Further Warranty Information
---

PitStop Wheel App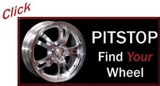 Try new wheels on your vehicle, a wide variety to preview.



Home :: Parts Search :: Information :: Links :: Contact Us :: Privacy Policy
Sparks Toyota, Inc.
4855 Hwy 501, Myrtle Beach, SC 29579
866-249-3607
Contact Jamie, Tim, Micah, or Greg for help today!

Copyright© 2004-16, Sparks Toyota, Inc.
Official retailer and wholesaler of TRD and Toyota Performance parts.