Engine Electrical

parts for your
2008, Sequoia Large 8 Cylinder (5.7L)



What's New List
Sparks Toyota Online
Performance Parts
p/n 1020191
Unichip Performance Computer Module

---

MSRP: $595.00

Your Sale Price:
$575.00

Sparks parts' prices are already discounted and no other coupons or discounts are valid on toyotaparts.sparkstoyota.com's internet parts and accessories.

for Larger Image

Our reasonable shipping charges
are calculated in your basket prior to check out.
Need International Shipping? Click Here for options
Description:
During check-out let us know what modifications you have installed such as exhaust, headers, cold air intake kits, superchargers, etc.

Realizes the full potential of Aftermarket add-on's like Cold-Air-Intakes & exhaust systems, as each kit comes pre-mapped for the exact set-up of each car or truck.
 
No end-user tuning necessary, just plug the kit into the car & you're ready to go.
 
Easily upgradeable for future add-on's.
 
Each kit comes with two maps : a low octane performance map & a high octane performance map, switchable from within the vehicle.
 
Fully tuneable by a Unichip Custom Tuner for customized add-on's . This basically means that the Engine Management System in your ride is now as tuner friendly as the most advanced Standalone systems in the world , without sacrificing any of the factory features. This feature is unmatched by any reflash-tuning or other similar product.
 
Plug 'n Play harnesses are fully Flux capable - purchase Flux when you purchase the Plug 'n Play kit or upgrade later - Flux simply plugs into the Unichip Plug 'n Play harness.
 
Plug 'n Play kits are removed from the vehicle in minutes, returning the vehicle to stock tuning , without leaving a footprint of ever having been modified (a feature which reflash-tuning cannot match).
NOTE: Any returned UNICHIPS will incur a 25% restocking fee. This is not assessed by us but a charge by UNICHIP themselves that we have no control over.

Dynomometer Tests:

Additional Information:
Prices are subject to change without notice.
Parts delivery contingent upon availability.
Orders will be confirmed within 48 hours.
Installation:
Unichip Performance Computer Installation Instructions, PDF format.
Need the Reader?

Note:
Self-installed parts (any part not installed by a shop) that needs to be warrantied will first need to be inspected/tested by a shop to determine if the issue is related to installation. After this has been done we can proceed with the warranty as normal.
Warranty:
Toyota does not warranty parts from other manufacturers. The warranty will be handled through the corresponding manufacturer and we can provide assistance in processing the claim.
---

PitStop Wheel App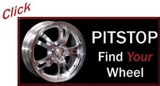 Try new wheels on your vehicle, a wide variety to preview.



Home :: Parts Search :: Information :: Links :: Contact Us :: Privacy Policy
Sparks Toyota, Inc.
4855 Hwy 501, Myrtle Beach, SC 29579
866-249-3607
Contact Jamie, Tim, Micah, or Greg for help today!

Copyright© 2004-16, Sparks Toyota, Inc.
Official retailer and wholesaler of TRD and Toyota Performance parts.