Suspension & Brakes

parts for your
2007, Scion tC



What's New List
Sparks Toyota Online
Performance Parts
p/n PTR11-21070-03
TRD Lowering Springs RED IN STOCK

---

MSRP: $199.00

Your Sale Price:
$166.80

Sparks parts' prices are already discounted and no other coupons or discounts are valid on toyotaparts.sparkstoyota.com's internet parts and accessories.

for Larger Image

Our reasonable shipping charges
are calculated in your basket prior to check out.
Need International Shipping? Click Here for options
Description:
TRD Lowering Springs lower the tC approximately 0.5" in the front and 1.5" in the rear. Offering a more aggressive stance and lower center of gravity. This provides added stability in hard cornering and provides a smooth, comfortable ride. Spring rate is increased 18% in the front, and 26% in the rear over stock springs. LIMIT ONE(1) SET PER CUSTOMER

Additional Information:
Prices are subject to change without notice.
Parts delivery contingent upon availability.
Orders will be confirmed within 48 hours.
Installation:
TRD Lowering Springs Installation Instructions, PDF format.
Need the Reader?

Note:
Self-installed parts (any part not installed by a shop) that needs to be warrantied will first need to be inspected/tested by a shop to determine if the issue is related to installation. After this has been done we can proceed with the warranty as normal.
Warranty:
Race or Off-Highway Use Parts
Race or Off-Highway Use Parts have no warranty. Should any Race or Off-Highway Use Parts shown in this catalog prove defective following their purchase, the buyer and not the manufacturer distributor, dealer or retailer, shall assume the entire cost of all necessary servicing or repair of the defective part and of any damage that may have been caused by the defective part. The buyer assumes the entire risk as to the performance of such parts. To the fullest extent permitted by applicable federal, state, local or other law, TRD expressly disclaims the implied warranties of merchantability and of fitness for a particular purpose, even if this catalog or any other materials mention a particular purpose for a Race or Off-Highway Use Part. TRD also disclaims all liability for direct, indirect; special, incidental or consequential damages, including, but not limited to, damage to or loss of personal property, loss of profits or revenue, cost of purchase of replacement goods, or claims of customers of the purchaser that result from the use of any and all Race or Off-Road Use Parts contained in this catalog.
Further Warranty Information
---

PitStop Wheel App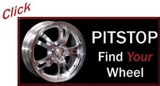 Try new wheels on your vehicle, a wide variety to preview.



Home :: Parts Search :: Information :: Links :: Contact Us :: Privacy Policy
Sparks Toyota, Inc.
4855 Hwy 501, Myrtle Beach, SC 29579
866-249-3607
Contact Jamie, Tim, Micah, or Greg for help today!

Copyright© 2004-16, Sparks Toyota, Inc.
Official retailer and wholesaler of TRD and Toyota Performance parts.